Party Animals vol.1.
Another exciting night but for other reasons, but let's not go so fast...
After sending yesterday's news we were shopping in Guelmim. Pretty cheap: 2 Moroccan clothes for Soma And Ági, huge quantities of food, mineral water, etc - 80Euros. Well not as cheap as Yerevan, but still very friendly prices.
We thought just a few steps on the pedal and we're at our destination at planet Tatooine (an abandoned old movie set most probably, in the middle of nowhere in Southern Morocco). Tan Tan was close and after the second attempt we found the campsite.

I need to mention here that our second driver, Peter is a real blood of Gyula; when the old man drove the 13-ton vehicle full speed on a sandy piste entering a tight gate the young guy just mentioned: Ah, this is not real offroading. Really fanatics.
So we arrived, we moved out the necessary things for the party, Karcsi started cooking, Soma made electricity for us, we started the power generator, put the speakers on the roof and suddenly the Sympathy for the devil filled the air in the campsite. Well, you should have seen those surprised faces...
The party didn't start easily but we didn't give up and it turned out to be a great night after all. Four Slovenians with light sabers, a veteran biker in full set, Huba and Grzegors who are infamouf for drinking and laughing a lot, Englishmen of course... and so on. All the food was gone, we drank one and a half kegs, loads of hard liquore and closed the party at 2AM. we collected into our charity box 67,36 Euros, 9 US dollars, 367 dirhams, 10 penny and 5 forints. To be continued in Nouakchott.
We packed all the things into the bus and went to sleep. Woke up at 6Am. That was cool. We keep on driving since the morning, the landscape turns into the Sahara really fast, the shore with the ocean is amaizing. Sometimes it rains sometimes we have sunshine, but the weather starts turning good. It seems that Boujdour will be the official toilet place for bus Number 7, we cleaned our dusty bodies again in the Boujdour camping. It will be a long day, the destination is near the Tropic of Cancer in Western Sahara, below Dakhla.
Kisses for Eva and Tania!
Market shopping: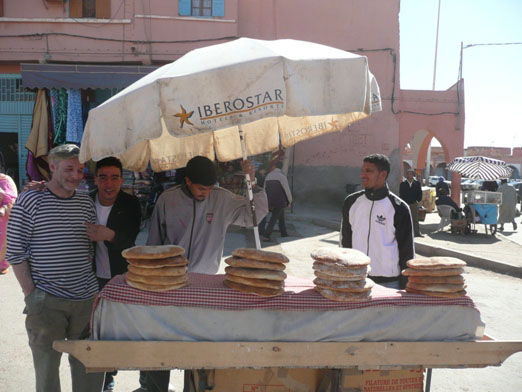 African hospitality: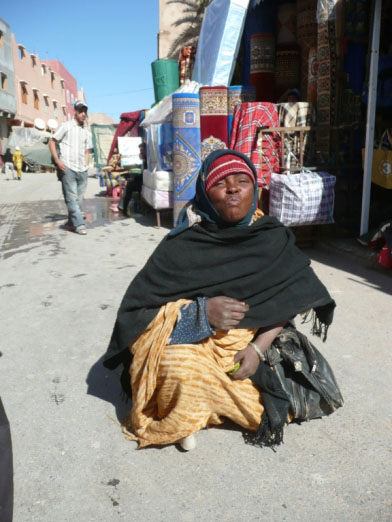 The place where they ask for "le fiche":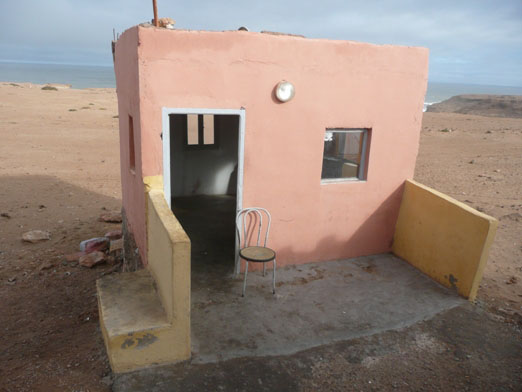 Bus Number 7 and the Ocean: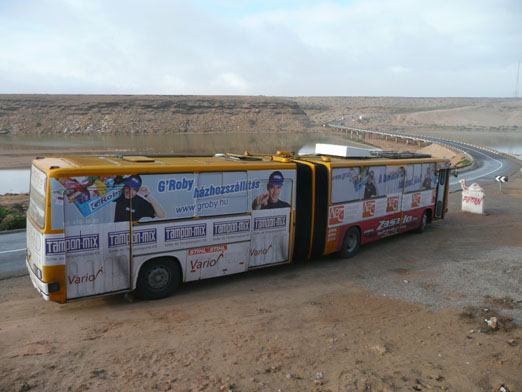 Bus Number 7 party on planet Tatooine: